We thought it might be fun to add a channel where members could run their own shows.
If your music software has an encoder that connects to a Shoutcast server, you can stream.
Each broadcaster gets a dj account and login details for connecting to our streaming server.
Broadcasters can submit live events and manage their live events from the events dashboard
First you'll need to contact us to have the Broadcaster role added to your members account.
Then you can access the events dashboard where you can create and edit you own live events.

Check the Shoutcast guides below for info on configuring your music software encoder.
Once your encoder is connected, check your live stream on the Open-Stage radio page.

Check this list below for some popular music programs with encoders that connect to a shoutcast server
Sam, VirtualDJ, RadioDJ, LunarCast, Rocket Broadcaster, Mixxx, Audio Hijack, Edcast, Butt, Winamp + DSP Plugin


Quick Guides – Configure your music software encoder and connect to a Shoutcast version 2 streaming server
Stream Config
How To Configure Your Shoutcast Stream
We selected some of the most popular music programs used for online radio broadcasting.
Use these guides to help you configure a shoutcast stream and start streaming live music.
Sam Broadcaster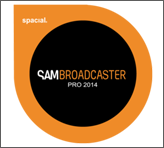 Setup A Shoutcast Stream With Sam Broadcaster
Works On: Windows (mac version in development)
Free or Paid: $299 / Fully-functioning, 14-day trial.
Download: SpacialAudio Solutions, LLC – Downloads
Sam is a powerful solution for digital DJs, you can broadcast live audio or set up an AutoDj playlist and stream it from your computer.
Please Note:
You can use the trial version to test your Shoutcast stream,
But you'll need to purchase Sam Broadcaster after 14 days.
Sam includes it own build-in encoder, making it easy to
configure a shoutcast stream and broadcast your music online.
Downloading the latest version of Sam Broadcaster from the link above,
Install it on your computer, (use Firebird Edition)
Once Sam Broadcaster is installed on your computer,
Start it up and from the top menu select Window > Encoder.
The encoder window is empty,
Click the + to add a new encoder.



From the Select Plugin window, select MP3 (Normal) 
Your radio also supports AACPlus streaming, 
Select MP3 (Normal) because it's compatible with most players) 
After you select MP3 (normal) a new window will open..


Encoder Configuration. 
You will need to find your Radio IP, Radio Port and Radio Password.
Check your account setup email or log in and check your Sonic panel.
Once logged in to Sonic panel you'll see your stream info on the right.
At this stage you should have your Shoutcast stream info ready.
We'll be using a test shoutcast stream for this setup:
Radio IP: 193.465.485.55, Radio Port: 9943, Password: 95765
The first setting in the Encoder configuration window "Quality" select "Fast Resampling" 
For "Format, set this to your stream bit-rate limit, example: 128kb/s 44.1kHz Stereo.
Always let your DJs know you stream bit-rate limit, so the stream doesn't auto-stop.
Next you need to click the Server Details tab where you'll enter your stream details.
This is where you'll enter your Radio IP, Radio Port, Radio Password & other info.
Enter your Radio IP for Server IP, Radio Port for Server Port & Radio Password.
The Station Details section on the right is optional info about your station.
Click OK when you're done.
Now click Start in the encoder. (or press F9 on your keyboard)
The status info in the Encoder should now say connected.
Test Your Live Stream
To test your stream, log in to your radio panel and listen with the built-in web player.
Or you can visit Shoutcast Status page for your stream by using your Radio IP & Port.
Example: http://193.465.485.55:9943 in your web browser (use your stream ip & port)
If you need more info, check out Spacial Wiki
For support with Sam: Spacial Audio Forum
Congrats! you're ready to start broadcasting to the world with Sam Broadcaster.
VirtualDJ
VirtualDJ Setup Guide For Shoutcast v2
LunarCast
LunarCast Setup Guide For Shoutcast v2
Mixxx
Mixxx Setup Guide For Shoutcast v2
RadioDJ
RadioDJ Setup Guide For Shoutcast v2
Rocket
Rocket Broadcaster Setup Guide For Shoutcast v2
Audio Hijack
Audio Hijack Setup Guide For Shoutcast v2
EdCast
EdCast Setup Guide For Shoutcast v2
Winamp + DSP Plugin
Winamp + Shoutcast DSP Setup Guide For Shoutcast v2

Some of these programs have paid versions, like Sam and VirtualDJ, the others are free but well worth checking.
If you only need an encoder to listen to your soundcard (external equipment) nicecast, edcast, Winamp will work.

We're using Automated playlists, when a live broadcaster starts streaming, the Auto-DJ will fade out automatically.
When a live broadcaster stops streaming, Auto-DJ will fade back in, so there's no dead air between dj changeovers.

You are free to use the stream whenever you like, unless another show is scheduled for that time, check the dj schedule first.
You can pick any free slot from the dj schedule, hover over Open Stage in the top menu and select Open Stage Radio Shows.